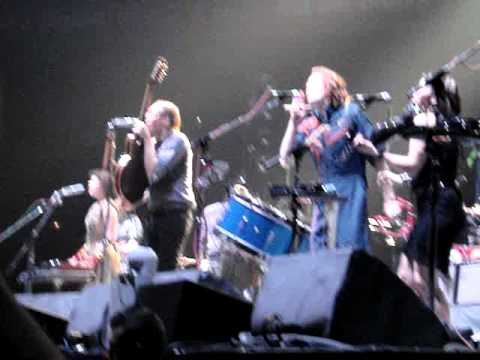 Vídeo fue grabado y subido a Youtube por elka1980
El mundo de la música en la era de internet 2.0, las redes sociales, la descarga directa, los politonos y los móviles multitarea sigue siendo una incógnita: siempre hay lugar para las sorpresas, las decepciones, y también para los milagros.
Cómo si no se entiende que un grupo que jamás ha sonado en radiofórmula, que nunca se ha colado en un anuncio de esos de acabar vendiendo la canción y no el producto, que pese a ser cortinilla y música de fondo de infinidad de programas y televisiones (Cuatro y la Sexta han quemado sus discos), y que no cuentan con patrocinador hayan llenado el Palacio de los Deportes de Madrid agotando meses ha. Y allá que nos fuimos una delegación de alababarada and friends a pasar un fin de semana por esas tierras y ver el concierto de la temporada, la victoria del "indie", del Yes we can.

A las 20:15 puntuales como un reloj suizo hicieron acto de presencia en el escenario Fucked Up, los absurdos teloneros que alguna mente poco lúcida o con tendencia a la boutade había elegido para acompañar a los canadienses en las dos fechas en España. Quizás pensó que al ser compatriotas la cosas quedaría bien conjuntada, pero vamos, ni de lejos. Un grupo de hardcore gritón (en 2010!) obviamente no resultó la elección favorita de, seguramente, un amplio porcentaje de público. Así que allí aguantamos lo mejor que pudimos sus 45 minutos de (poca) gloria, a base de (tres!) guitarras dando caña y un cantante con sobrepeso, descamisado a partir de la tercera canción, que se desgañitaba al micrófono como podía, pero que parecía que fuera el primero en pensar que aquel no era el lugar adecuado para su actuación, por público, sonido, hora y recinto. Como performer tuvo sus momentos graciosos, pero básicamente se puede decir que era mejor verle que escucharles. O sea, como concierto, mal. Resumiendo: para la próxima vez, si los quereis canadienses, los New Pornographers nos valen; si no, directamente traed a unos suecos.
Con veinte minutos de (eterno) retraso tras unas cuantas horas de plantón ya a las espaldas y pies, Arcade Fire hacían acto de presencia en el escenario. Un escenario que reproducía la idea de una autopista, con focos disfrazados de grandes farolas, una pantalla al estilo de las vallas publicitarias que entretienen el camino a los conductores y un gran telón con la imagen de un nudo de conexión a doble altura, tan típico de las afueras de las grandes ciudades americanas, esos sitios donde las rotondas son meras quimeras. 8 músicos en escena, saludos de rigor, cada uno a su instrumento, y entrada a matar con "Ready to Start", una de las canciones de su último álbum con más alma de hit. Aquello desató la locura, con un mar de palmas, saltos, y más de 15.000 personas coreando a voz en grito, y bailando en menos de un metro cuadrado lo posible, a ritmo de ese irresistible bajo. El ritmo no bajó, y del tirón pusieron aquello patas arriba con "Month of May", "Neighborhood#2 (Laika)" y "No cars go". Así, para empezar.

Video de burtonbcell1
Si bien el sonido sonó algo enmarañado en algún momento, y los violines iban y venían, se puede decir, que al menos desde pista, aquello fue más que correcto, con un volumen alto, voces claras y, por momentos, todos los matices del sonido y melodías lanzadas por múltiples instrumentos, desde acordeones al característico órgano, desde los violines al xilófono pasando incluso por una zanfoña, audibles e identificables. Obviamente, en un lugar tan grande la percepción del sonido dependerá de la ubicación, pero desde donde estuvimos nosotros, desde luego podemos darle una buena nota al sonido.
Tras el comienzo arrasador, hicieron un recorrido por temas más lentos, dando más protagonismo a los temas de "The Suburbs", que para eso venían a presentarlo, y en las voces a Réginie. Esto hizo que la gente se relajara un poco y pudiéramos ver como las canciones de ese disco crecen en directo cosa mala, sobretodo "Rococo" y su sencillo estribillo.
El ritmo del concierto volvió a subir con "Crown of Love" y su crescendo final. De nuevo saltos, palmas y gritos y a esperar la traca final, que viendo cómo iba el set list todo el mundo esperaba: Los Neighbourhood que faltaban, un "Keep the Car Running" que nos puso a 100 por hora, "We used to wait", que demostró ser un temazo a la altura de los clásicos, y para acabar, "Rebellion (Lies)" y locura en extremo. Aún con la gente coreando la canción, se despidieron para volver con los bises, donde tras tocar "Intervention", dieron por concluido el concierto con la previsible y deseada "Wake Up", que no deja de ser curioso ver como se baila, corea y recibe una canción tan lenta y carente de estribillo. Allí, durante ese momento sobretodo, gente de gran variedad de pintas, edades, vestimentas y pelajes (sorprendió ver un público tan heterogéneo) olvidamos los calores de la muerte, los apretones, los plantones y el no haber cenado y coreamos, aplaudimos como si no hubiera mañana, mientras ellos tocaban, cantaban, bailaban, sudaban y se entregaban como si fueran uno más de sus fans.
En fin, que muy bien. Posiblemente al año que viene Arcade Fire "ya no molarán", pero sosotros podemos decir que les hemos visto en directo en su momento. Para un grupo con 3 discos (no lo olvidemos) poco más se le puede pedir. Van para grandes, espero que lo consigan.